Dr. Doug Endel graduated from Palmer College of Chiropractic with a Doctor of Chiropractic (D.C.) degree and studied Biomedical Engineering at the University of Cincinnati (UC). He has a passion for treating families, children, and athletes. As a high school state champion hurdler and collegiate track athlete at UC, Dr. Endel knows firsthand the power of chiropractic care as it helped him realize his competitive potential.
The practice has become a resource center for people all over the area, offering not only chiropractic services, but also nutrition, massage therapy, acupuncture, and corrective exercises.
Dr. Endel's wife and two young children are his driving forces. He has seen how living a healthy lifestyle can have such a positive impact on not only yourself, but also your family. If we can create healthier, happier people, then we will have healthier, happier families.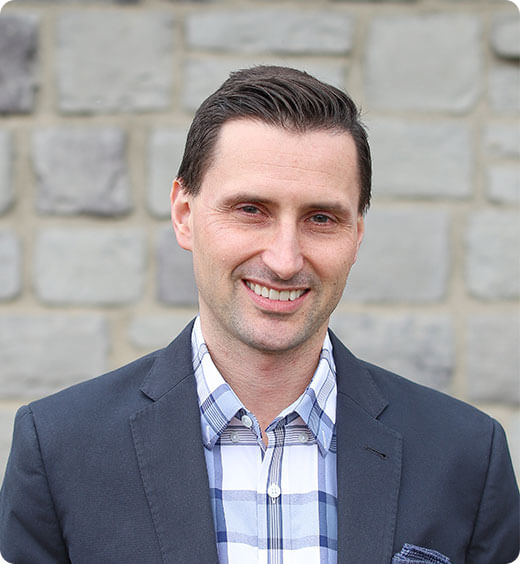 Angela Lutz, Holistic Lifestyle Coach
Angela believes deeply in synergistic health as well as the individual needs and story of every person. It was this passion that drove her to earn a Certification and License from the CHEK Institute in holistic health.
She analyzes her patients' needs with regards to emotions, spirituality, physical health, nutrition, and more to improve weight loss, sleep, hormones, cycles/menopause, blood sugar, digestion, and vitality/energy, offering a truly dynamic approach to healing.
This dynamism also shows in her accomplishments: she's taught Bio Individual Nutrition, spoken on behalf of autism and disorderly eating, and launched the "Boundless Living" radio broadcast.
Kori Kirkhope, Nurse Practitioner
Meet our nurse practitioner, Kori Kirkhope Kori is a Family Nurse Practitioner board-certified through the American Association of Nurse Practitioners (AANP). With a passion for empowering patients to achieve optimal health and wellness, Kori combines clinical expertise with a personalized approach to provide comprehensive care.
Kori possesses extensive knowledge and skill in the field of Bio-Identical Hormone Replacement Therapy (BHRT), helping patients restore hormonal balance and improve their overall well-being. With a deep understanding of the intricate hormonal system, Kori tailors individualized treatment plans to address specific needs and enhance quality of life.
Additionally, Kori is a dedicated specialist in peptides, utilizing these cutting-edge advancements to promote cellular rejuvenation, enhance athletic performance, alleviate joint-related discomfort, and support overall vitality. Through careful assessment and a patient-centered approach, Kori incorporates the latest research and protocols to optimize outcomes.
Committed to staying at the forefront of medical advancements, Kori actively engages in continuous education and remains up-to-date with the latest research and practices in the field. Patients appreciate Kori's compassionate nature, thorough approach, and ability to create a warm and welcoming environment that fosters trust and open communication.
If you are seeking a board-certified Family Nurse Practitioner by the AANP, trained through the Obesity Medicine Association, with expertise in Family Medicine, specialized knowledge in Bio-Identical Hormone Replacement Therapy, and Peptides, Kori is here to support your journey towards optimal health and vitality. Schedule an appointment today and experience personalized, comprehensive care that puts your well-being first.
THE

ENERGY BOOST

Sign up for an award winning curated list of articles, ideas and inspiration
for your healthy side. (delivered straight to your inbox 2x month.)

WESTERVILLE CHIROPRACTIC & NUTRITION
528 SOUTH OTTERBEIN WESTERVILLE, OH 43081
OFFICE HOURS
MON
9:00 AM - 12:30 PM
2:30 PM - 6:00 PM
TUE     9:00 AM - 5:00 PM
WED
9:00 AM - 12:30 PM
2:30 PM - 6:00 PM
THU
9:00 AM - 12:30 PM
2:30 PM - 6:00 PM
FRI      9:00 AM - 5:00 PM