Dr. Doug Endel graduated from Palmer College of Chiropractic with a Doctor of Chiropractic (D.C.) degree and studied Biomedical Engineering at the University of Cincinnati (UC). He has a passion for treating families, children, and athletes. As a high school state champion hurdler and collegiate track athlete at UC, Dr. Endel knows firsthand the power of chiropractic care as it helped him realize his competitive potential.
The practice has become a resource center for people all over the area, offering not only chiropractic services, but also nutrition, massage therapy, acupuncture, and corrective exercises.
Dr. Endel's wife and two young children are his driving forces. He has seen how living a healthy lifestyle can have such a positive impact on not only yourself, but also your family. If we can create healthier, happier people, then we will have healthier, happier families.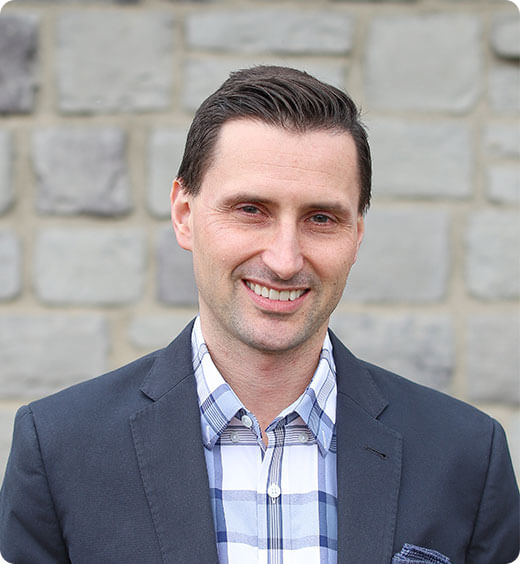 Lisa Baumer, Office Manager
Lisa has managed the Westerville Chiropractic & Nutrition office for over five years and has never stopped connecting with or cheering on our patients. She learned most of what she knows about chiropractic care, nutrition, and holistic healing from our offices. Her skill with both learning and sharing her wisdom had enriched her mood, health, and life nearly as much as she has enriched the experiences of our patients.
She's become a veritable expert on holistic healing in her own right. For all your scheduling, insurance, supplement, and service questions, Lisa is your go-to!
Angela Lutz, Holistic Lifestyle Coach
Angela believes deeply in synergistic health as well as the individual needs and story of every person. It was this passion that drove her to earn a Certification and License from the CHEK Institute in holistic health.
She analyzes her patients' needs with regards to emotions, spirituality, physical health, nutrition, and more to improve weight loss, sleep, hormones, cycles/menopause, blood sugar, digestion, and vitality/energy, offering a truly dynamic approach to healing.
This dynamism also shows in her accomplishments: she's taught Bio Individual Nutrition, spoken on behalf of autism and disorderly eating, and launched the "Boundless Living" radio broadcast.
Dawn's believes in helping people enhance their daily lives by working with their body's natural energies. She focuses on pain management and treatments for hypertension, depression, sleep issues, menstruation, and gastrointestinal issues.
Her list of degrees and certifications speaks to her skill as a healer as well as her vast treatment options. She holds a Professional Master's Level Degree in Acupuncture, graduated Magna Cum Laude from The American Institute of Alternative Medicine, is a Certified Reflexologist, and has trained in the newer healing modality of Frequency Specific Microcurrent. Additionally, she is a registered nurse with extensive experience in a nursing facility.
April spent many years in childcare before deciding to pursue her passion and become a Licensed Massage Therapist. Obtaining a degree in massage therapy from the American Institute of Alternative Medicine in 2019, she's been a resident of Columbus for 5 years, although she's lived in Ohio for the majority of her life.
Her nurturing childcare experience gives her an exceptional insight to caring for others in ways they may not be able to care for themselves. Currently, she is pursuing further education and training for therapeutic massage techniques.
Beth graduated from the American Institute of Alternative Medicine in 2012 and has since been hard at work relieving the tensions and pains of her patients so they can enjoy the simple things and live life to the fullest.
Her many specialties include a number of therapies, including lymphatic / lymphedema therapy, muscle release therapy, and myofascial / neuromuscular therapy. Other areas of her experience include reflexology, foot detoxes, and prenatal infant massages to help parents deepen their bonds with their babies.
Kevin began receiving massages as an infant in central Ohio, and as soon as he could stand, he began paying that care forward. He received his license in massage therapy from the State of Ohio Medical Board in 2009 and has been sharing his passion ever since.
With a lifetime of experience, Kevin knows how to adjust the pressure, length, and technique of his massage to fit a patient's needs. In addition, his strong sports background lends him the ability to incorporate stretches and joint movements into a session to help bodies of all types unwind, relieve strain, reduce recovery times, and maintain health.
THE

ENERGY BOOST

Sign up for an award winning curated list of articles, ideas and inspiration
for your healthy side. (delivered straight to your inbox 2x month.)

WESTERVILLE CHIROPRACTIC & NUTRITION
528 SOUTH OTTERBEIN
WESTERVILLE, OH 43081
OFFICE HOURS
MON
8:00 AM - 12:30 PM
2:30 PM - 6:00 PM
WED
8:00 AM - 12:30 PM
2:30 PM - 6:00 PM
THU
8:00 AM - 12:30 PM
2:30 PM - 6:00 PM