Dr. Doug Endel graduated from Palmer College of Chiropractic with a Doctor of Chiropractic (D.C.) degree and studied Biomedical Engineering at the University of Cincinnati (UC). He has a passion for treating families, children, and athletes. As a high school state champion hurdler and collegiate track athlete at UC, Dr. Endel knows firsthand the power of chiropractic care as it helped him realize his competitive potential.
The practice has become a resource center for people all over the area, offering not only chiropractic services, but also nutrition, massage therapy, acupuncture, and corrective exercises.
Dr. Endel's wife and two young children are his driving forces. He has seen how living a healthy lifestyle can have such a positive impact on not only yourself, but also your family. If we can create healthier, happier people, then we will have healthier, happier families.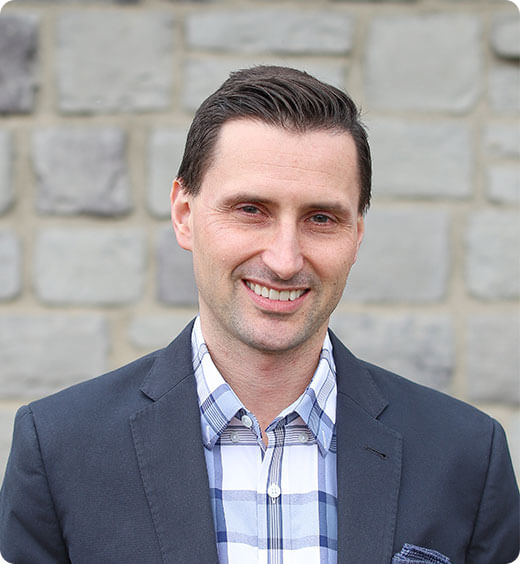 Angela Lutz, Holistic Lifestyle Coach
Angela believes deeply in synergistic health as well as the individual needs and story of every person. It was this passion that drove her to earn a Certification and License from the CHEK Institute in holistic health.
She analyzes her patients' needs with regards to emotions, spirituality, physical health, nutrition, and more to improve weight loss, sleep, hormones, cycles/menopause, blood sugar, digestion, and vitality/energy, offering a truly dynamic approach to healing.
This dynamism also shows in her accomplishments: she's taught Bio Individual Nutrition, spoken on behalf of autism and disorderly eating, and launched the "Boundless Living" radio broadcast.
Renee Hallman, Office Manager
Renee is a Westerville native and moved back to Columbus in 2018 with her husband to be closer to family.  She has previously been involved with the fitness industry for 8 years before starting with us and is still - currently a certified spin instructor.
She has always been interested in holistic and alternative healthcare and has a passion for being part of a team and helping others.  She also love rescuing and volunteering with animals and currently has 3 rescued cats and a rescued rabbit.
Angie is our massage manager at Westerville Chiropractic and Nutrition. She has a focus on sports and deep tissue massage but also holds certifications and specializations in Swedish Relaxation, Trigger Point, Positional Release, Assisted Stretch, Sports Massage, Rehab and Recovery, PreNatal, Oncology, Pediatric. 
Beth graduated from the American Institute of Alternative Medicine in 2012 and has since been hard at work relieving the tensions and pains of her patients so they can enjoy the simple things and live life to the fullest.
Her many specialties include a number of therapies, including lymphatic / lymphedema therapy, muscle release therapy, and myofascial / neuromuscular therapy. Other areas of her experience include reflexology, foot detoxes, and prenatal infant massages to help parents deepen their bonds with their babies.
Kevin began receiving massages as an infant in central Ohio, and as soon as he could stand, he began paying that care forward. He received his license in massage therapy from the State of Ohio Medical Board in 2009 and has been sharing his passion ever since.
With a lifetime of experience, Kevin knows how to adjust the pressure, length, and technique of his massage to fit a patient's needs. In addition, his strong sports background lends him the ability to incorporate stretches and joint movements into a session to help bodies of all types unwind, relieve strain, reduce recovery times, and maintain health.
Meagan received her education at American Institute in Alternative medicine.  She is a licensed massage therapist with the state of Ohio.  Her passion is delivering a massage that combines therapeutic healing with relaxation. Meagan is certified in Nueromuscular Therapy which manipulates the soft tissue to improve nervous system function as well as improve function and alignment of the skeletal system.  Her goal is to promote healing, reduce pain in her clients and help them feel "human again". 
THE

ENERGY BOOST

Sign up for an award winning curated list of articles, ideas and inspiration
for your healthy side. (delivered straight to your inbox 2x month.)

WESTERVILLE CHIROPRACTIC & NUTRITION
528 SOUTH OTTERBEIN WESTERVILLE, OH 43081
OFFICE HOURS
MON
8:00 AM - 12:30 PM
2:30 PM - 6:00 PM
WED
8:00 AM - 12:30 PM
2:30 PM - 6:00 PM
THU
8:00 AM - 12:30 PM
2:30 PM - 6:00 PM